I'm feeling so... not sure what the word for it is. Restless isn't quite right.
Basically it comes down to this: I want my house redecorated. Like Right NOW;)
I've always liked the color scheme that I've got going on... 3 different shades of the same color throughout the house with red as the accent color. I added blue in the hallway/entry, but other than that the whole house (with the exception of the girls' rooms) is khaki/green with red accents. But I think I'm sick of it and I'm not sure where to start.
One thing that I need to do, is restrain myself and remember that I should focus on ONE room at a time, rather than thinking about the entire house. Doing that will make any projects more do-able and less expensive and less overwhelming.
Part of the reason why I'm feeling this way, I suspect, is because I'm ready to redo the girls' bedrooms. I've ordered the bedding and curtains and now I have to wait to get those before I start painting and accessorizing. I am totally not one of those "theme room" kind of moms, so there won't be a ton of accessorizing, but a few things here and there would be nice, I think. Here are my plans:
Right now Nora and Ryann's room is painted purple. They have Aqua comforters and white furniture. Until two days ago they had towels hanging on their windows to block out the sun. There really is no theme or order to their room.
I have ordered these comforters:
I have also purchased and hung up some chocolate brown blackout curtains. I'm planning to paint the wall with the windows and probably one other wall the light pink color. The other two walls will be painted something else - the aqua maybe? Or yellow? I don't know yet - any thoughts? I'm really not very good at this stuff. I'm also thinking of painting some dots on the walls, but I have to think about that some more. In addition, I need to paint the ceiling and would like to paint a fresh coat on the trim and windows and their furniture. So that room will be a bigger project than I realized (of course). I WISH we could afford to change the carpet - they have a light brown carpet that was there when we moved in. There is a big hole in it (was there when we moved in) and I have few furniture arrangement options that will cover the hole.
Georgia's room:
Right now her room is painted a bright yellow. She has no curtains on her windows because the curtain rod somehow got yanked out of the wall and I haven't repaired the damage yet. She just moved into a twin bed so she has a comforter that is left over from when we used that room and bed for guests - it is an army green.
I have ordered this quilt for her: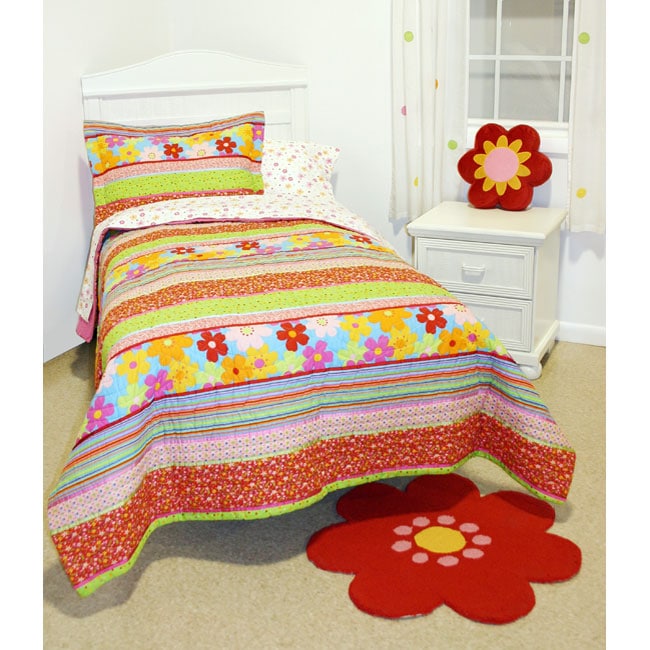 I haven't received it yet, but I'm thinking the yellow flowers might just match her walls so I may not need to repaint. I've also purchased navy blue blackout curtains for her windows, which I need to get hung up. I have no ideas for wall decorations or accessories. She may need an additional small piece of furniture like that little table with drawers - I'll have to look at IKEA and see if there is anything inexpensive that would work.
So far, those are my plans. I'm eager to get started, though. And since I've got plans and can't get working on them quite yet, my mind is wandering to the rest of the house. I want all new colors, but I just don't know what. We don't have a whole lot of furniture and what we have is not great, but we have to make do with it and work around it. Right now we have some red walls in our dining room and front room, but I'm thinking its time to change that, too. I really like my navy hall... the powder room off of the hall is cream with navy and orange accents - I'm liking that, but not sure I want to accent throughout my house with orange:)
Behr has a program on their website where you can upload pictures of your rooms and try on different paint colors. Benjamin Moore has something similar. I'm just trying to figure out if it is worth spending the money on it ($5 for Behr, $10 for BM). I think it is, but I have to figure out which one to do - Behr is cheaper, however, my cousin works for a BM dealer and can get me a discount on paint, so it would make more sense to try on their colors... I just want the new comforters to come so I can get started on those rooms and get this all out of my head!